Vistara, a Hindi word which means 'expansion', is also the name of an Indian airline operated by Tata Sons & Singapore Airlines. It commenced operations on 9 January 2015 in India.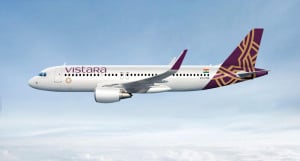 7 months later, on 9th Jul, 2015 I boarded an Air Vistara flight for the first time. So impressed I was with the service and a few features not available in other domestic airlines (frequent-flyer, premium economy class with extra leg space, in-flight catering at no additional cost) that it became my preferred airlines and in the next 3 months I flew four times, every time by Vistara. By this time I had become its unofficial brand ambassador and I started recommending it to all and sundry. I went to the extent of marking Vistara's Facebook page as the page I want to see first in my news feed!
All was going well between the two of us. Or so I thought.
On 15th of Oct, I woke up to this post on Air Vistara's Facebook page: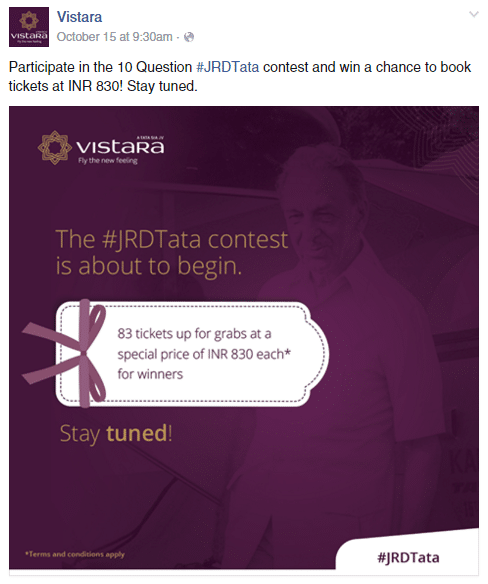 They were running a contest in the memory of JRD Tata. Feeling optimistic, I decided to try my luck. I wasn't expecting to win though- in the last 30 years the only time I won something in a lucky draw was a Rexona soap in a school fete. So, imagine my surprise when I got a notification on Facebook on 17th October telling me that I was one of the lucky winners: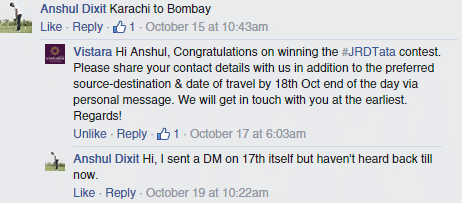 After pinching myself multiple times to confirm I wasn't dreaming, I immediately sent a message to Vistara's Facebook page on 17th Oct requesting them to book a flight ticket for me from Delhi to Hyderabad for 25th Oct, 2015. As per the T&C of the contest, this was a totally valid request.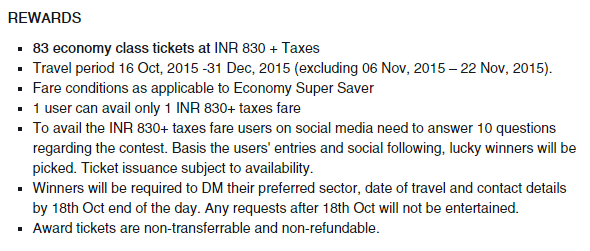 That's when things started to get sour between us.
You see, till 16th Oct I had no plans to travel to my hometown as the tickets were quite expensive. But being one of the lucky winners of this contest changed everything. It gave me hope that I can still celebrate Dussehera with my family. I thought that once I get a confirmation mail from Vistara, I would book Hyderabad to Delhi flight ticket for 21st night or 22nd morning. After all how long would they take to check the availability and send a confirmation mail?
Turns out, they take a lot of time.
After multiple follow-ups through Facebook messages and e-mails, I finally received a reply on the 20th (72 hours later) that they would let me know by Friday (23rd Oct) whether or not they could provide me the ticket. I anyway decided to travel to my hometown, hoping that they would stand by the conditions of their contest and provide me the ticket for Sunday.
On 23rd Oct, I received a message from Vistara informing me that tickets under the offer were not available for 25th Oct and asked me to provide an alternate date.
So, they waited for 6 days before telling me at the last minute that they cannot give me the ticket. Why did they do so? My hypothesis is that 25th being the Sunday right after a festival, they wanted to wait till the last minute to fill maximum possible seats and provide a ticket under the offer only if a seat was left vacant. It makes complete business sense. But was it right to keep a customer hanging with a thin thread of hope till the last minute?
The worst is yet to come.
I replied to Vistara's message asking them to provide me a ticket for 26th Oct instead.
To which their response was: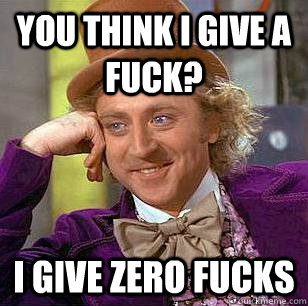 It's 30th Oct and I am yet to receive a response from them. Luckily I got a ticket in another airlines and I reached Hyderabad on 27th.
And that's how Vistara and I parted ways.
No break-up is complete without a few parting thoughts, so here are mine:
Please hire a business analyst who can predict demand beforehand so that you don't keep a customer waiting till the last minute.
Please hire a social media analyst who is prompt in responding to customers.
Good Luck, Vistara. I hope your next contest won't turn out to be such a disappointment for any of your customers.
---
---