This article is relevant for current Uber India employees who have received Uber shares through ESPP or RSUs.
When can you sell your Uber shares?
As long as you are employed with Uber you can sell your Uber shares (RSUs and ESPP) only outside of the blackout period. Shareworks (the broker that Uber uses) shows if you are in the blackout phase.

How To Sell Your Uber Shares?
Step 1
Go to Shareworks -> Portfolio -> Uber Share Holding
Here under the Transaction View Tab, you will see your RSUs and ESPP units listed separately.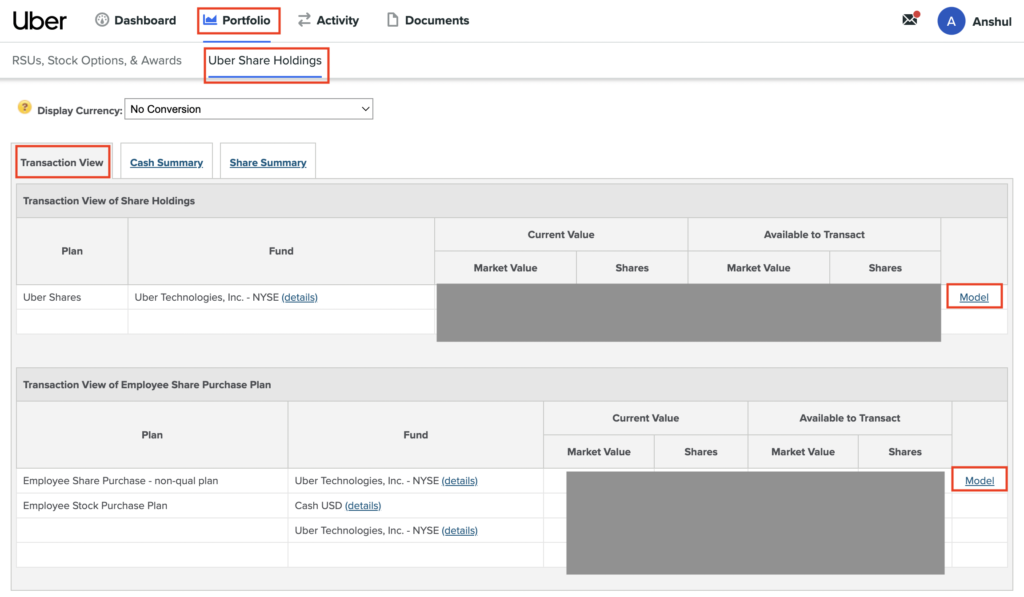 Note: I took the above screenshot during the blackout period. I don't recall now but it is possible that after the blackout period is over you might see a link to "Sell" next to "Model". I'll use the 'Model' link for this tutorial, but the process remains the same if you see the 'Sell' link instead.
Depending on whether you want to sell RSU or ESPP, click on the relevant 'Model' link. Think of this as executing the transaction in a sandbox environment without actually selling.
Step 2
On the next screen, you need to select the lot you want to sell – you can either use the default FIFO option ('Earliest Acquisition First') or select the lots manually.
Tip: I use the manual option to select those lots that result in Short Term / Long Term capital loss so that I can offset that against any other STCG/LTCG I make during the year.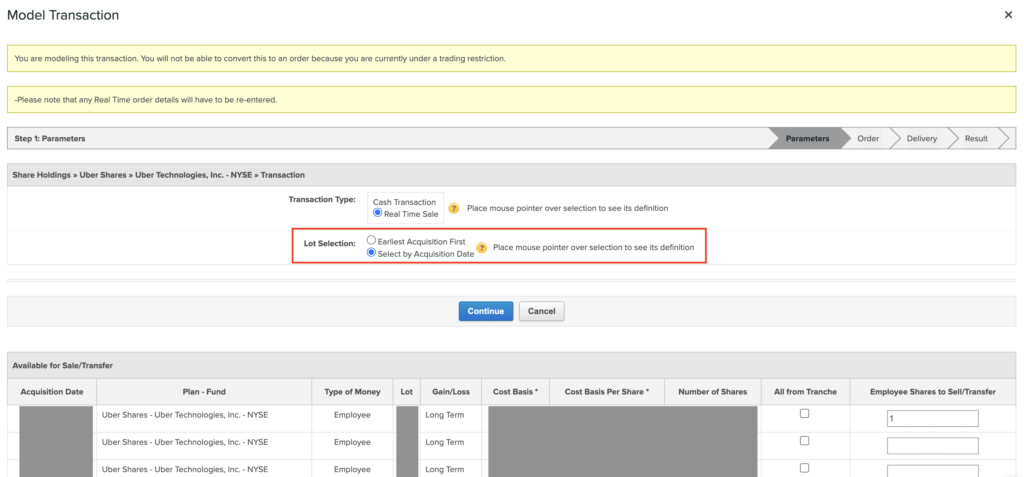 Note: The Gain/Loss column that you see above is not as per Indian taxation laws. According to Indian IT rule, foreign equity held for less than 2 years is considered as Short Term.
Step 3
Select the order type on the next screen:
Market: Order gets executed at the market price
Limit order with a Good Till Date (GTD): The Order gets executed at the Limit Price set by you or higher and remains in effect until the date specified by you (not more than 365 days), or until the order is completely executed.
Limit order with a Good Till Cancel (GTC): The order gets executed at the Limit Price set by you or higher and remains in effect until the order is completely executed or canceled by you.
Both GTD and GTC order automatically gets canceled when you enter the blackout phase.
Step 4
This is where you decide how you want to receive the funds. Assuming you do not have any overseas account, you can select either of the highlighted options shown below: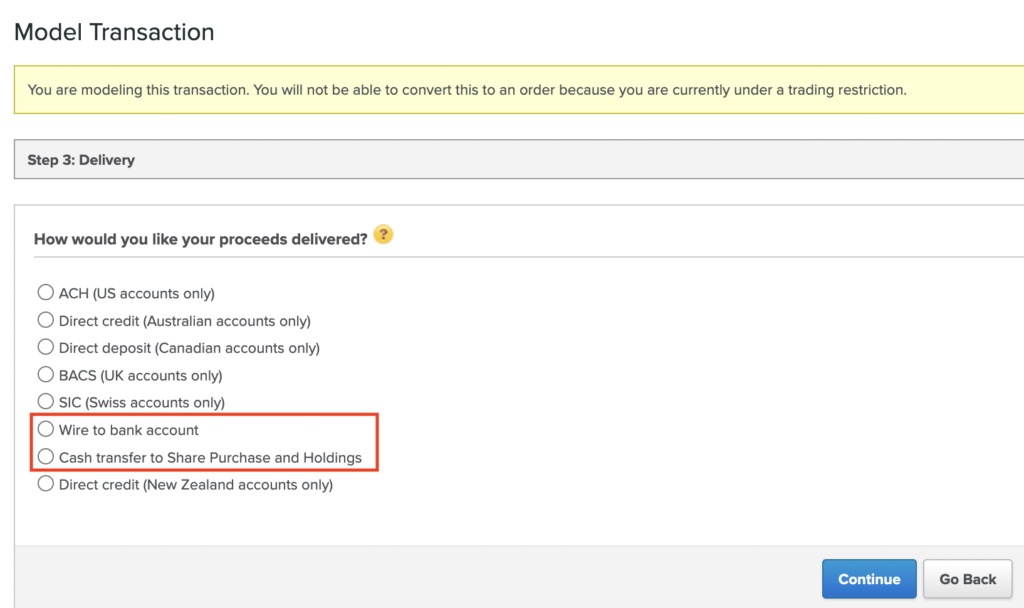 If you want to send the sale proceeds to your Indian bank account, use the first highlighted option – 'Wire to bank account'. If this is the first time you are selling your Uber shares, you will be asked to link a bank account. This is how the form looks: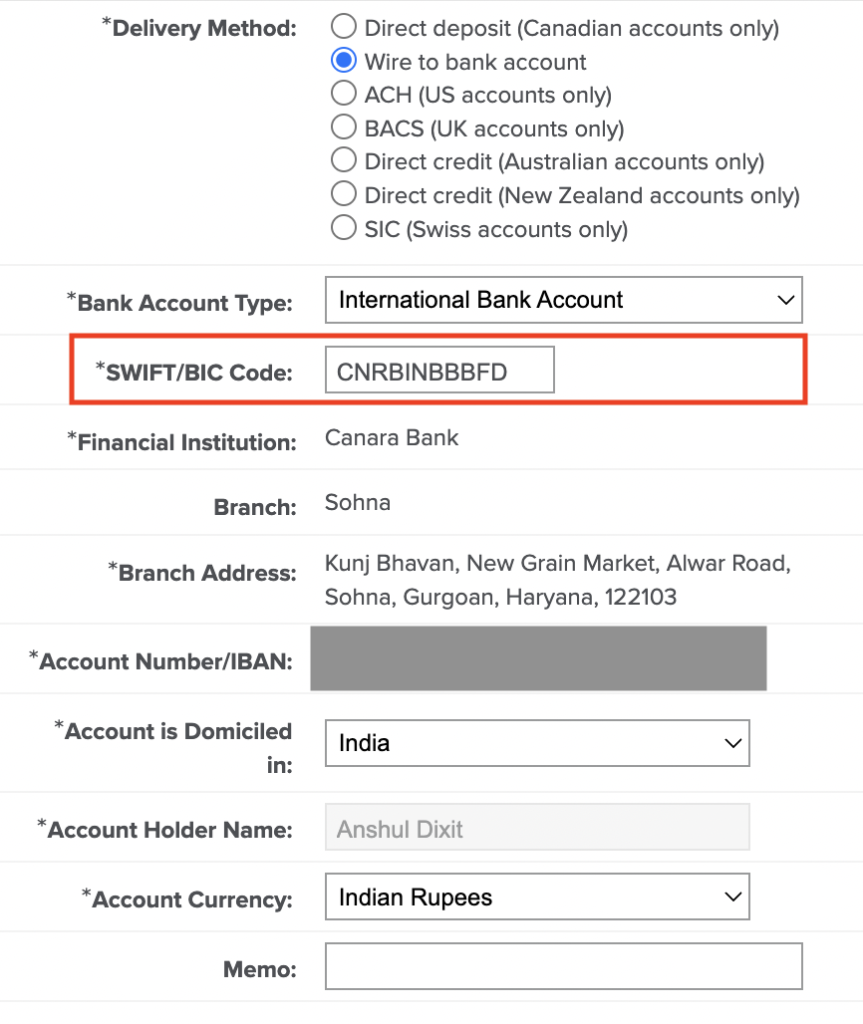 You can get the Swift code for your bank online or by calling customer care.
If you select the second option, i.e., 'Cash Transfer to Share Purchase and Holding', the sale proceeds are held with Shareworks. This is a useful option if you plan to sell on multiple occasions and want to reduce the wire transaction charges. You can hold the amount with Shareworks and transfer all the funds to your bank account in one go to minimize wire transaction fees. But your money sits idle in this case. If instead, you transfer the funds immediately after the sale of shares, you can invest them somewhere else. So, weigh the pros and cons before deciding.
Note: Check the tax implication of the second option as I've heard from some folks that this is not allowed as per RBI. Haven't found any document yet so not sure if that is correct or not.
Step 5
This is the last screen and it shows you a summary of your order. Hit submit if everything looks ok.
Note again that the Loss/Gain category here is not as per Indian tax laws. As mentioned earlier, foreign equity held for less than 2 years is considered as Short Term.
In this screen, you will also see the conversion rate. More on that later.
Transaction Charges
You pay the following charges on the sale transaction:
| Type | Charged By | Amount |
| --- | --- | --- |
| Transaction Fees | Shareworks | Few cents |
| Wire Transfer Fees | Shareworks | $10 per wire |
| Bank Transaction Charges | Indian Bank | Varies; can range anywhere between $0 to $10 (as per my experience of using a pvt and a public sector bank) |
| FX Conversion Fees + GST | Indian Bank | Varies |
What Conversion Rate Is Used By The Bank?
The conversion rate that you see on the Shareworks transaction summary is not what your bank uses when converting USD to INR. Your bank will use the forex rate on the date when the money hits your account.
The conversion rate varies from bank to bank. This is due to the different spread (difference between the buy and sell price of currency) used by banks. In my experience, public sector banks offer a better conversion rate than private sector banks.
Tip: You can drop a mail to your bank asking for a better rate. If you have a good standing with the bank, they might agree to it. I tried this with Icici Bank and got an additional 60p per USD.
When Do I Get The Money In My Account?
It could take up to 7 days after the sale of the shares for the money to hit your Indian bank account. In some cases, you might get a call/mail from the bank to confirm the reason for getting funds from the US.
Tax Liabilities On The Sale Of Shares
---
new around here?
Join my Whatsapp group to receive the next article directly in your inbox. It is an admin-only message group to protect your privacy and prevent spam.
Or, join my newsletter to receive a curated list of informative articles from around the web (including a few of mine). Frequency < 1/month.
More about me here.
---
Let's understand this with an example.
Say, 10 shares were released to you on 16th Apr 2022, and let's assume that the stock price at that time was $30 (you can find this in your Shareworks report). This $30 is FMV on the purchase date. Uber has already paid tax on it so you don't have to pay any tax as long as you are not selling.
Now, 2 months later you decide to sell 5 shares from this lot at $38 per share. So your capital gain on this transaction is:
(5*38) - (5*30) = $40
You need to report this capital gain in INR. To do that, you have to consider SBI TT Buy Rate on the last day of the month immediately preceding the month in which the purchase/ sale takes place. (IT Rule for reference – here and here)
So, for our example, you will consider the SBI TT Buy Rate on 31st Mar for purchase FMV (as the purchase happened in April), and the SBI TT Buy Rate on 31st May for sale FMV (as the sale happened in June).
Since it is difficult to find the historical data, you should record these values at the end of each month to avoid issues later. As a fallback option, you can also use this website, but as you will notice they miss adding the data sometimes.
Hope this helps! Feel free to reach out for any questions through comments or 1:1.
---
Leaving Already!
Check these articles on the blog that you might like.
---